Overview of our rooms and suites
Whether you are traveling to Florence for leisure or business, our newly renovated single rooms are ideal for guests traveling alone.
They offer a large and comfortable bed, a Nespresso coffee machine and a large flat screen TV. They are located in the inner part of the hotel, where you can enjoy the peace and quiet.
These rooms have a large, modern bathroom with a luxurious walk-in rain shower where you can pamper yourself after exploring the city. This room is the perfect place to work, enjoy and rest in the heart of Florence.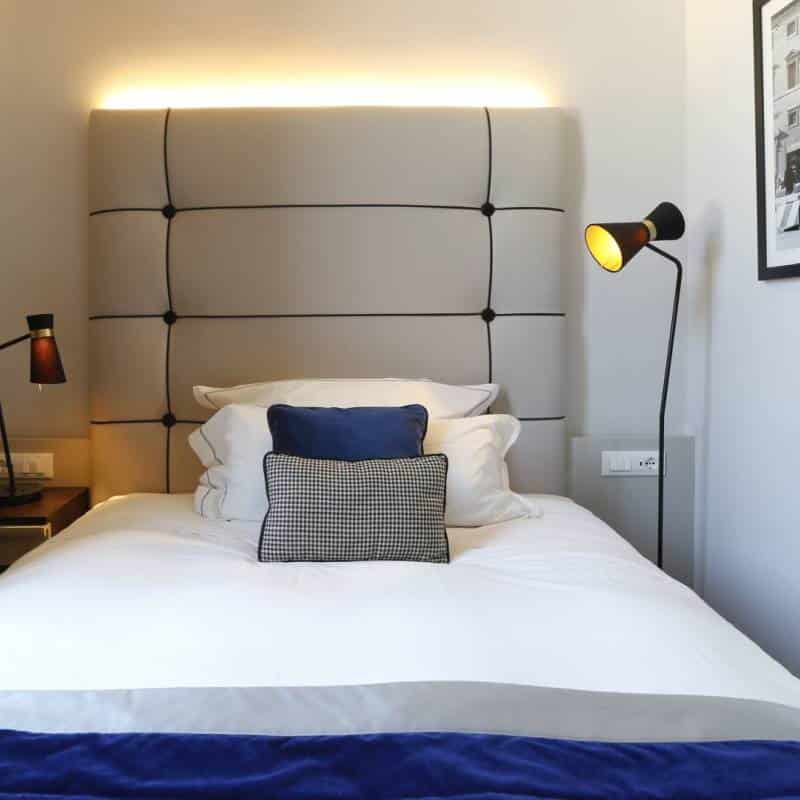 Superior Room Single
1 – 2 People | King Size Bed | 15 sqm
The single rooms of the Hotel MGallery are located inside the building. This gives you a lot of peace and relaxation. You will also find this in the bathroom, where a luxurious walk-in rain shower awaits you – ideal for relaxing after a long day in the city.
Superior Room Double
2 People | Queen Size Bed | 23 sqm
The hotel's Superior Rooms are very popular with travellers. They offer a quiet, comfortable night's stay in a room of at least 23 square metres. Guests are provided with a comfortable double bed or, on request, two single beds.
Executive Room
2 People | Queen Size Bed | 25 sqm
You also get a modern, spacious bathroom with elegant 1950s style elements. These decorate the magnificent rain shower. Look forward to beautiful views thanks to the rooms' location on the highest floors of the hotel. The Duomo of Florence is just a few steps away from your accommodation.
Junior Suite
3 People | King Size Bed | 35 sqm
In the living area of the MGallery suite, you will find a contemporary, elegant décor with classic elements that is very prestigious. Enjoy your favourite hot drink, watch movies, and get a massage from the fantastic rain shower.
Suite Medici
3 People | King Size Bed | 53 sqm
The large bedroom with a king-size bed as well as direct access to the luxurious bathroom is a dream. Thanks to the high-quality cosmetic products by CULTI Milano, you will feel like you are in a spa. You will also find a spacious living room and an additional bathroom in your Accor Hotel Florence.